We have moved! We loved our little office in the manicured gardens at Lockwood Park, however the team outgrew it. Trafficlear is rapidly expanding… we can't believe it! The team uprooted at the beginning of May and are now based in a industrial unit on Birds Royd Lane, Brighouse. We love it here! If you fancy popping in to see our new place, don't hesitate to call.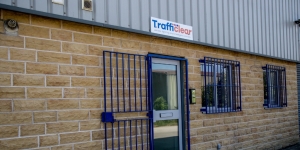 NAPFM Earlier in year we had the privilege of exhibiting at the National Association of Police Fleet Managers Show at the International Centre in Telford. The show was a great experience for us all here at Trafficlear, as well as expanding our ever growing list of international friends. One big part of our stand was our focus on Ideatec's OpenLink Creator which allows you to control the standard Ideatec kit from a Windows device of your choice allowing you to integrate your flashing lights and navigation onto the same device. We demonstrated this on a one of a kind Discovery Sport donated to Basics North West for use as an emergency responder. Our friends from Ideatec, Frédéric Migeot and Sébastien Logist, joined us on the stand. If you came along to the show you may have seen our demonstration of the SafeFleet Inview 360 camera system. We were joined by Roberto Testani from Safe Fleet and Thomas Fahrenbach from Fire Research Corporation, who brought a wealth of knowledge of all the SafeFleet range. The range includes cameras, foam pump equipment and lighting. Elliot We have recruited our third apprentice on to Trafficlear's apprenticeship programme! This summer we employed Elliot Ramsey, who has just completed his A Levels… to a very high standard, may we add. We have taken Elliot on as an Accounts Apprentice. Elliot is only two months in and he is already a key asset to the team. He has taken on stock management and is learning the company's accounts system well. Tow Show For our second exhibition of the year we are exhibiting at the Recovery Tow Show, which is again hosted at the International Centre in Telford. We will have a different focus on our stand, in comparison to the NAPFM. There will be a greater emphasis on our traffic safety products, keeping operators safe while working in dangerous areas as we reveal some new products that we have been developing here at Trafficlear HQ.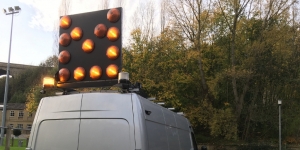 That's all the news for now… if you would like to call in to the Trafficlear office in the meantime, let us know!