Three out of the four members of the 'Trafficlear clan' visited the show on Wednesday the 26th of April and we can state here that for us it was definitely a show not to be missed. We all had various objectives for the day, which included to identify new advancements that could integrate well with the Ideatec control systems we distribute in the UK and to view our products being well exhibited on customer vehicles..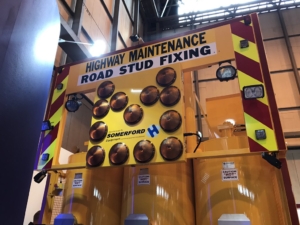 So whilst at the show, we visited two of our customers who were exhibiting vehicles that included Ideatec controllers (switches). The main stand that we visited was Somerford, part of the Hitex Group of companies, hosted by MD Mike Oakes. Somerford had installed an Ideatec GO112 touch screen programmable controller into one of it's massive line painting vehicles. Not only does the GO112 control a Trafficlear Arrow Board on the rear of this spectacular line painting vehicle, it also controls multiple other auxiliary products, providing a high level of automation and safety (allowing the vehicle operatives to do what they are best trained to do).
It is a great feeling to see our high quality systems being installed in such a professional way; plus at the exhibition they also being appreciated by a fleet managers and end users as reliable products that keep vehicles continuously working on UK highways and byways.
Clarks Vehicle Conversions (Doncaster) displayed a 'new ideas' development vehicle on the Webasto stand at the CV show that uses a brand new Ideatec product called the IDC4T8-HD. This particular product version from the IDC-HD range uses the small switch panel from the Ideatec Tiny8, initially designed for covert vehicles. The Clark's electrical design team neatly mount the Tiny8 switch panel next to a Webasto temperature control knob on a faceplate that can be unobtrusively mounted in many different places, even in a modern vehicle busy cabin. The IDC4T8-HD is part of a small range of new products which are, in food terms, a 'fusion' of two existing Ideatec products. The result are controllers that have the small size of the IDC range and the software and intelligence of the MC8+ range, which we think will be a winner within the UK and across mainland Europe, when used on smaller vehicles that require intelligent and quick to install conversions. Clarks will be the first UK converter to use the IDC-HD range, for which we are grateful and for which they will have our full technical support – as usual.
Thanks guys..
We also had the chance to check out competitor products, or at least see products that are used to do the same job as an Ideatec product or Trafficlear Arrow.
We also looked to see if there were any new ideas regarding where Ideatec or Trafficlear products could be used eg an Ideatec controller on a bus; or a Trafficlear Arrow on a new kind of highways vehicle.
We also looked for different advancements in the market for example IP Cameras that could be intelligently controlled by an Ideatec GO112; or a telematics solution via which we can access the files on a GO112, which for example, has a 4000 event data log that proves very useful should the GO112 detect a fault in a product it is controlling. We could also update the programme of a GO112 via 'telematics' – very Tesla !!!
Should you wish to know any more about the products and / or uses of product as explained above, please don't hesitate to contact us at Trafficlear
01484817898
hello@trafficlear.co.uk