Meet the team feature – Dave Roberts, Technical Director
As we are fast coming up to Dave's birthday, we decided to blog about our fantastic Technical Director. Dave moved to Huddersfield in 2002 to study at the local University here. Graduating with an honours degree in Music Technology and Audio Systems. Even before starting his degree, Dave was interested in electronic systems and computers etc
As we are fast coming up to Dave's birthday, we decided to blog about our fantastic Technical Director.
Dave moved to Huddersfield in 2002 to study at the local University here. Graduating with an honours degree in Music Technology and Audio Systems. Even before starting his degree, Dave was interested in electronic systems and computers etc being mainly self-taught from articles he found on the Internet and by taking apart various household items, much to the frustration of his parents, as he probably didn't put them, all back together.
After a short time in the automotive trade, Dave secured a job working in an audio visual business. They delivered audio visual systems to major events, such as conferences and roadshows. He then moved into a managerial role, managing teams tasked with installing high-end video conferencing suites.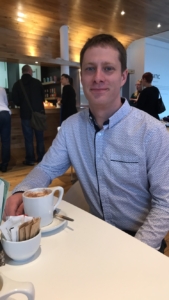 Trafficlears start up…
The seeds of Trafficlear were sown after Dave accepted a bet from one of his friends that he could buy lightbars cheaper from China than his friend could. He succeeded in the challenge, but learned a valuable lesson that we all now still heed at Trafficlear; price isn't everything in a purchasing decision, in fact it is down the list after quality of product and level of service. After then trading from his garage for a short time, Dave formally started Trafficlear in 2011. Trafficlear was created with financial support from Sam Turner, who is now Managing Director. In late 2012 Andy Earnshaw joined the business on a part-time basis, now in the role of Operations Director; then Chloe Gill started working here at Trafficlear last July as an Office Coordinator apprentice.
As it says on Dave's Trafficlear profile "We don't know how Dave's head fits in so much information about products without exploding". Dave brings a lot of knowledge to Trafficlear and is definitely the technical brains behind the business, therefore his title being Technical Director is very well suited. If there is a technical problem that needs solving, Dave steps up to try and resolve the matter successfully.
He is a real asset to the business, but when Dave is in the office it's always full-on. Dave's favourite thing about working for Trafficlear is the challenges that are set for him daily. In fact sometimes hourly or by the minute; from trying to find a solution for a customer with an electrical query or adapting a product for a customer with a bespoke vehicle conversion requirement. He loves it.
Check out Dave's Linkedin profile to find out more about what Dave does within Trafficlear.
So thank you to Dave for being the best Technical Director any business could wish for. We would like to give him a big Happy Birthday from all his colleagues at Trafficlear.