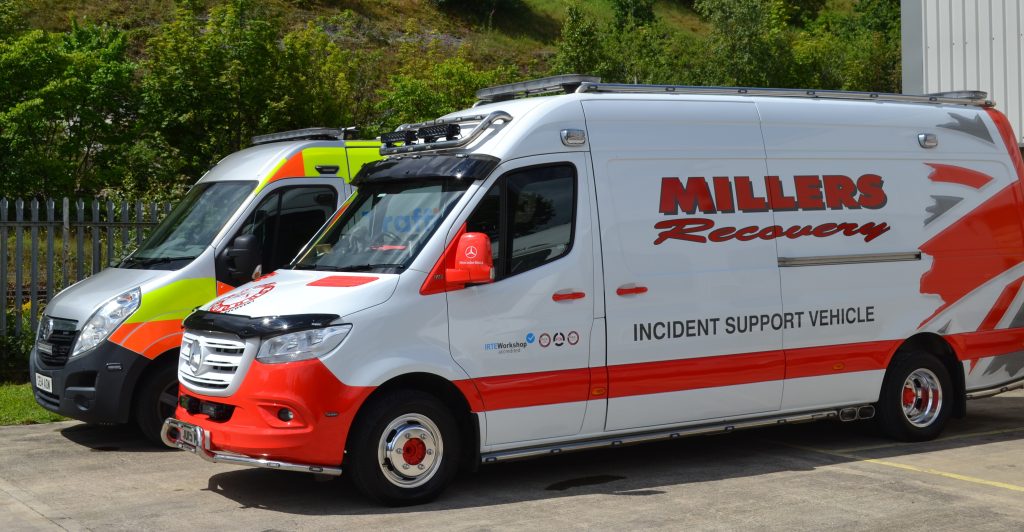 The lightbars selected were nFORCE® dual colour (amber/white) from SoundOff Signal. There are an enormous number of flash patterns available with SoundOff Signal lighting and the configuration of the lights is unlimited.  The white modules provide extensive scene illumination and although not included here, these lightbars are available in tri-colour, so rear reds are also possible.
The front and rear lightbar also hosts left and right arrow.
SoundOff Signal mpower® dual colour (amber/white) lighting was also installed within the grille and rear bumper and Whelen M6V2's with integrated scene illumination completed the build. 
All the SoundOff Signal lighting is synchronised by the bluePRINT system which enables enormous versatility of flash pattern and configuration.
The system controlling all electrical products on the vehicle is the Ideatec POLARIS Central Unit and Touchscreen. The POLARIS controls the functions for all amber and white lighting as well as the signs in the cab, hand wash, air compressor and the diesel heater. The vehicle has 12v and 24v battery systems installed for jump starting 12V and 24V vehicles. There is an extra POLARIS touchscreen installed in the rear of the vehicle to give battery voltage information, control interior lighting and scene lights on the vehicle for driver convenience.